George, Sr. (b.1768/75-1839) b. possibly in MD or WV although some sources say Northern Ireland; r. Chester Co., PA & Pine/Hampton Twp., Allegheny Co., PA (one source* says this George is son of Lt. Col. James & Nancy Mary Moore or Mary Jane Bradford Allison, although this is questionable; Farmer,  Merchant, & Banker in Pittsburgh) Listed in 1815 Pittsburgh City Directory
-military: served in War of 1812
-burial: one source has a George Allison buried at Cross Roads Cemetery, Pine Township, but with different dates and no wife. However, George, Jr., is also buried there whose dates match. George, Sr's stone also matches. (See FindaGrave.com. Research is ongoing.)
m1.?* Susannah McRoberts (1775-1854) b. Northern Ireland, MD, or Butler Co., PA; r. Pine/Hampton Twp., Allegheny Co. (daughter of William or James & Hannah Baird McRoberts; Homemaker)
-burial: old Pine Creek Cemetery, Fox Chapel, O'Hara Township, Allegheny County, PA (see cemetery "Show map" for GPS) Why is she buried apparently at a different location than her husband?
Married: 1794, probably in MD or PA
Emigration: to northern Allegheny County from Maryland, 1810
Children:
1. James A., Sr. (1794-1866) b. Chester Co. or Cumberland Valley, PA; r. Hampton Twp. PA, 1810 (m. Elizabeth Brickell; Tanner & farmer) Son James, Jr. D.D. (b.1823) was editor of national Presbyterian Banner. Daughter Lydia married Thomas P. Austen, a cousin through marriage to our Pearces who married into the Nelsons below.
2. Margaret P. (1800-1876) r. Nortonville, Jefferson Co., KS (m. George Shirley)
3. Hannah (1805- ) Could this be a twin? (m. __ Dillin?)
4. Elizabeth (1805-  ) Twin?
5. Pamelia "Millie" (1806/7- or 1807-1883) r. Allegheny Co. (m. Thomas Nelson; Homemaker; my line)
6. William (1809-1840) (m.
 Fannie Lee)
7. George, Jr. (1810-1881) 
b. PA (m. Matilda Kennedy) 200-acre family farm became post office at DeHaven Station (1889), Allisonville, and eventually Allison Park (1909); active in Herr's Chapel U. B. Church, McCandless Township. One source has him buried in that cemetery, while another has him at Cross Roads Presbyterian Cemetery, Pine Twp.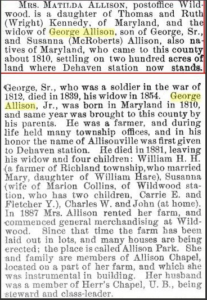 * this source has our George, Sr's m2. as Martha McDonald (1787-1855) with nine children, although clearly some later ones (James, Jr. & John) are his grandchildren. This source has him buried at Raccoon Church Cemetery in Candor, Washington County, PA.
Documentation:
See "Our Allison Family Tree" and other Vitals
Various Public Member Family Trees & sources, Ancestry.com
See also "George & Susannah McRoberts Descendants"
RETURN TO OUR ALLISON FAMILY TREE 
RETURN TO OUR McROBERTS FAMILY TREE
Last revised 3/31/22