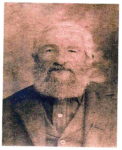 Robert, Jr. (1785-1867) b. Swatragh, Maghera Parish, County Derry, Northern Ireland; r. Culmerville, West Deer Twp., Allegheny Co., PA. His farm was partially in Buffalo Twp., Butler Co. (son of Robert, Sr. & Catherine/Martha Dowling) possibly married sometime to Mary Alice Watt of the Bann Valley, County Derry?
-buried: Deer Creek Presbyterian Cemetery, WDT (His will left a lot "six rods square" for a "burying ground" near the present crossroads and bridge at Culmerville, WDT. His, his wife/wives', and probably other family members' graves were moved to Deer Creek Cemetery around 1922, when construction began on the railroad line parallel to Saxonburg Blvd. Most are unmarked.)
Mary Catherine Dowling MacKrell (1785/8-1840*) b. Northern Ireland; r. Culmerville (confusion over her. Was she part of Robert, Sr.'s in-laws or did her name actually belong to two separate wives?) (daughter of Henry & Mary MacKrell)
Marriage(s?): before 1804, Northern Ireland
Emigration: 1810-11 from Port of Londonderry, Northern Ireland to Philadelphia on ship Mary Wellington. May have lived a time in New Jersey before settling in Deer Twp., Allegheny Co. Robert, Jr. is believed to have brought many of his step-siblblings (as many as 9) by his father's second marriage.
Marriages: Children: It's unknown who belongs to whom* or birth order
1. Mary Ann (1806/08-1881) r. Butler Co. (m. James Harvey)
2. James Christian (18o9/10-1870) r. Butler Co. (m. Christina/Christie Ann Carnahan – probably from my early central PA Pearce line)
-buried: Westminster Presbyterian Cemetery, Butler Co.
3. William John, Sr. (1811/12-1905/06) r. Butler Co. (m1. Mary Watson; m2. Nancy Hemphill) He died at age 94.
4. Christina (1812- ) Could this have been mistakenly listed-the wife of James? Or did she die in infancy? Could it be Martha (1812-before 1908) (m. John Henry; m2. ___ Shaw)
5. Margaret Ann (1812/15-1892/1903) (m1. John Woodruff Culmer; m2. George Gibson) 6. Jane (1816/7-1891) r. East Deer Twp. (m. William Dawson)
7. Nancy (1820/1-1897/1902) r. Tarentum/Springdale, East Deer Twp. (m. George Pillow)
8. Susanna (1822-1906) (m. Thomas Montgomery)
9. Elizabeth (1824/26-1915) (m. Matthew Boyle)
10. Robert M. III (1827-1851) died at age 24 unmarried; some sources with later dates say he was MIA in the Battle of the Wilderness, VA, Civil War (not to be confused with the Robert buried in Pleasant Unity Cemetery 1824-1856)
11. Dowling (1829-1858) b & r West Deer Twp. (m. Elizabeth K. Brown – our line) -buried: Bull Creek Presbyterian Cemetery, WDT, at age 29 of "lung trouble"
*Some sources list other children or members of the household. Could they have been grandchildren, other relations, or domestic help? Were these middle names? They include: Robert Montgomery (b. 1837) relative of Susanna's husband? Edward Fox (b. 1820) Robert J. (b. 1850) Martha (b. 1812/13) (m. John Henry) William Murry (b. 1822) Harrison (b. 1838) Mary Ellen (b. 1824). Also, a Catherine Norris is listed in the 1860 Allegheny (now City of Pittsburgh's North Side) Federal Census as born in 1798 and living there. Could this be our Mary Catherine?
Documentation:
John Newton Boucher. A Century & a Half of Pittsburgh & her People. Lewis Publishing Co., 1908. p. 200.
John Graf. West Deer Township-A Century and Half of Progress, 1836-1986. p. 187.
Family Tradition & various cemetery records.
Edna Gray notes. 1 Oct. 1987.
Linda Merle. various e-mails via Archiver.RootsWeb.
Ancestry.com
"MacKrell Family of Allegheny Co., PA." 11 May 2010.
http://www.familysearch.org/eng/search/prf/pdigree_view
Various Public Member Family Trees, Federal Censuses, & other documents. Ancestry.com
Elaine Walsh. "Ralph Dawson family West Deer Twp., Allegheny Cty PA." 11 Mar. 2011.
http://boards.ancestry.com
Last revised: 9/10/18
RETURN TO OUR NORRIS FAMILY TREE
RETURN TO OUR MACKRELL FAMILY TREE