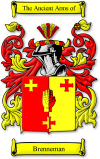 (back 12 generations to Switzerland/ Germany)
(Click on first name for Vitals; spousal surname for associated family)
Peter H. Broenniman (1554- )
Anna Entzen (  )
I
Peter E. Broenniman (1584-  )
Elsi Reusser (  )
I
Niclaus Melchior Brenneman (1605-1634)
Elizabeth ____ (  )
I
Melchior "The exile/Refugee" Brenneman* (1631-after 1673)
Christina Reusser(1636- )
I
Adam R. Brenneman/Bronimann* (1675- )
Katharina Wurtz(c. 1663- )
I
Jacob W. Brenniman (c.1710- )
Susannah Evans (c.1714 )
I
Nicholas E. Brenneman+ (1736-1789)
Barbara H. Kurtz(c.1735-1770)
I
Daniel Brenneman (1769-1842)
Maria Bender # (1783-1860)
I
Elizabeth Brenneman (1816-1890)
Thomas "Tommy" Lee (1816-1900)
I
Christian F. Lee (1858-1906)
Laura Catherine Speicher (1859-1919)
I
Annie J. Lee (1885-1971)
Charles Frederick Krause (1884-1973)
I
Hilda Elizabeth Krause (1921-1997)
Richard Orville Miller (1920-2015)
I
Susan Kay Miller (1949- )
Larry Edsel Pearce (1948- )
^
Annie Rebecca Pearce Matthew Carter Pearce
(1971- ) (1973- )
* spelled mit unlaut and variations including Bronimann & Broennimann
+ one source (McKenzie) says that there was another generation before, Nicholaus, Sr. (1697-1785), wife unknown. That would make 13 generations.
# Maria's mother Helena was also a Brenneman, daughter of Samuel K. (1759-1834). We believe this is the same line from the Melchiors. Her mother was Marie Schwartzentruber (1765- ).
DOCUMENTATION:
 Albert Gerberich. Brenneman Family History. Scottdale, PA: Mennonite Publishing, 1938.
Sunsee-Rea Hoover. E-mail. 6 October 2014
PhpGedView – Internet source
Casselman Historians, Annual Meeting, Grantsville, MD, 16 Sept. 2011, Focus: "The Immigrant Family of Danial & Maria (Bender) Brenneman. Various sources, including "Family Record of Daniel Brenneman of Germany and Jacob Brenneman" and "Census Records of Daniel & Maria Brenneman"