From the Pittsburgh Post-Gazette
by Judith A. Oliver, historian
October 13, 1996
Provided by James Paxton, Austen-Pearce cousin
10/16/19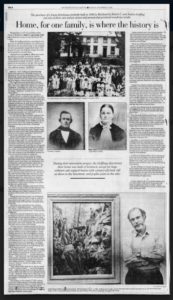 (Click on reproduction to enlarge or
see 4-part enlargement below for readability)
Note: While there have several Thomas P. Austens in Pittsburgh's North Hills over the years, the one above is believed to have been a descendant of our Ambrose Austen. Coincidentally, one named Thomas Pierce Austen (middle name spelled differently than our "Pearce") was a son of Charles and Ann (relationship to our Austens unclear), died 4 years later, and is buried in the nearby Greenwood Cemetery. As the article says, however, wife Lydia was the granddaughter of our George Allison.
(Click on each section to enlarge. Print in Landscape.)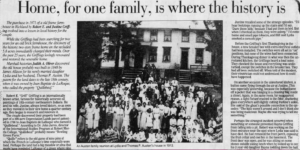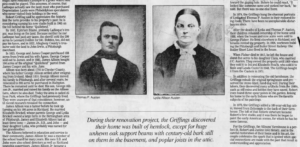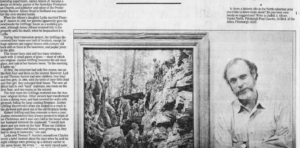 Below is the original caption for the Austen-Pearce/Pearce-Austen reunion photo above, taken and published in 1913, from my article on the history of our family reunions. Unfortunately, the later 1996 newspaper story doesn't include our Pearces because of its emphasis on the Austen's "haunted house."
(Click on to enlarge)

If you want to read about a similar haunting in a Pearce family residence of that time, go to "The Pearce Blanket: Keeping the World Warm," and learn about the Austen (first name, not so coincidentally) Pearce house in Harmony, PA.
Last revised 10/17/19