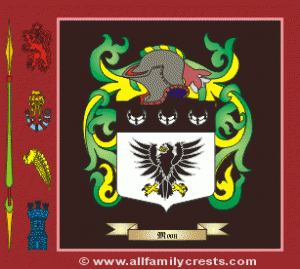 (going back 8 generations to the British Isles or Ireland)
O' Maonaig family motto: "Sola virtus nobiltat"
("Virtue alone ennobles")
(Click on first name for Vitals/spousal surname for associated tree)
Henry Moon* (17? -1825)
(Mrs.) Sarah Wilson* # (17? -1839)
I
Joseph Myler+ Moon, Sr. (1795-1881)
Sarah Jane Davis (1802- )
I
Joseph Myler+ Moon, Jr. (1835-1905)
Susan Ethel Fleming (1846-1931)
I
Alice Virginia Moon (1865-1947)
Joseph Marshall Hill (1858-1939)
I
Bessie Reed Hill (1887-1974)
Wesley Herron Pearce (1876-1955)
I
Ralph Hill Pearce (1917-2002)
Ruth Elizabeth Gray (1917-2005)
I
Larry Edsel Pearce (1948- )
Susan Kay Miller (1949- )
^
Annie Rebecca Pearce Matthew Carter Pearce
(1971- ) (1973- )
* Several accounts suggest Henry Moon's birth as 1718. In a ledger from the old inn (October 11, 1825) is a note stating that he "departed this life" at 107 years, 2 months, and 4 days. An Armstrong County newspaper also printed this. The same ledger records his wife Sara's death in 1839, aged 99 years. If this is correct, are we missing a generation? The birth of Joseph Myler, Sr. comes too late in their lives for Henry and Sarah's earlier birth dates to be accurate.
# Research is ongoing to determine possible connections among the Wilsons who married into other parts of the family, considering the proximity of dates:
James Wilson, Sr. (Pearce-associated family 1704-1776) m.
Jean ___ (1721-1798) and
Elizabeth Wilson (unknown) m.
John Anderson (Gray 1731-1814).
+ Read "Myler/Mylar -What's the difference?"
DOCUMENTATION:
Christine Adams, e-mail, 2 Nov. 2001
Sir John Bernard Burke. The General Armory of England, Scotland, Ireland, and Wales. London: Habeison & Sons, 1884
Roberta Wolgamuth, e-mail, 29 June 2009
Moon Family tradition
U.S. Federal Census, Pine Twp, Allegheny Co., PA, 1800-40
Public Member Family Trees & other documents. Ancestry.com
Last revised: 12/30/16