(Click on images to enlarge & clarify/ Hit back button to return)
I recently came across these three photos from my Hill Family Tree files, but am unable to identify most of the persons herein. The FIRST looks like a collection of elders from a men's club or association, if the cap on the gentleman seated on the right and the general formal attire are any indication. From facial appearances, I wouldn't think the subjects are related. This comes from a newspaper clipping, probably from around the late 1800s: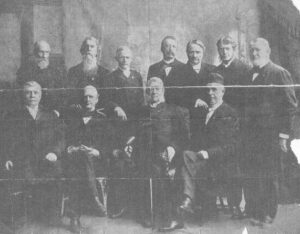 The SECOND picture was taken at a rather formal picnic, wedding reception, or reunion held under a tent. On the original, the couple seated on the right-hand side, farthest from the camera, are identified as Carl Hill (1893-1970) and Hazel Hill Nicely (1896-1932). They were brother and sister, the off-spring of my great-grandparents, Joseph (1858-1939) and Alice Moon Hill (1865-1947). This photo could have been taken before they each married in the early 1900s. Notice that there is only one young person and several of the men are smoking cigars, as was the custom of the day. Could the older couple at the end of the table, in fact, be the parents and guests of honor, Joseph and Alice? The gentleman is "acting up" for the camera, holding things above his ears: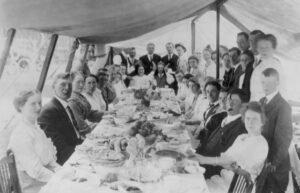 Picture number THREE looks like a family portrait taken in front of the Joseph Hill house on the family farm along Babcock Boulevard, near North Park, but I can't be certain. The front porch seems to match the house from other pictures in "Photo Album: Hill." Do any of the persons in this image match any of the people in the two previous pictures: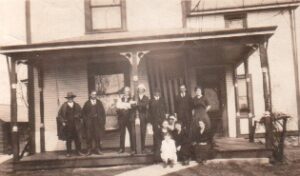 I have sent these and other old photos to one of the last remaining Hill cousins, Grace TeSelle (b. 1928), to see if she can identify any of the subjects. Check back to find out what the results are. Meanwhile, if you recognize anyone, you may comment in the reply/ inquiry section below or write to me directly at LRYPEARCE@GMAIL.COM .
Posted and last revised 3/24/22