by
Larry Pearce, nephew
6/6/19
Uncle Doc, named and nicknamed after the physician who delivered him, could be the "poster child" for "big, toothy grin." He is also called "Larry" by his wife and friends, but he could be referred to as "Rocketman," as we will learn in a minute. The eleventh child and the youngest son of my grandparents Paul and Bertha Campbell Gray, he like the others in his family has had a life around which a movie could be made. Growing up on the family farm in southern Butler County, Western Pennsylvania, in the middle of the Great Depression, no doubt Doc never knew how poor these fourth generation descendants of Scots-Irish immigrants were. It has been said that his mother had "one tot tugging on her apron, one nursing in her arms, and one in the oven" the entire two decades of her reproductive life. If you think that's unusual, consider my great-grandparents and great-great grandparents Pearce who each had ten children. Yes, these folks learned to do without, but life on the farm was rich with hard work and abundant with home-grown, hearty foodstuffs and home-made, healthy breads and desserts. Doc grew up tall and lean like his father, who supplemented their large garden and varied livestock with rough carpentry skills. Father Paul Gray helped my dad build our first house in nearby Cooperstown in 1948, the year I was born. I was given the informal version of Lawrence "Doc" Gray, "Larry," while my oldest brother Paul was named after Grandpap Gray. Uncle Doc was a teenager by the time our house was built and may have helped in its construction. Ironically, eight years earlier, my brother Paul had been born just a few days from when the last of Doc's siblings was born. Grandma Bertha was in the hospital at the same time as my mother. Read more about life in our Paul and Bertha Gray family through the pen of Aunt Edna (1920-1997) and memories of some of her brothers and sisters, some still being recorded, written, and posted at this website.
Doc and my brothers, just five and seven years apart in age, seemed to bond well. Doc taught them how to hunt and trap, and those skills were passed on to me. I remember visiting grandma sometime around the age of ten. Doc, who had enlisted in the U.S. Marine Corps shortly after high school, 1956, saw the cease-fire at the end of the Korean conflict, and was back home after two years of active duty. He spent four years in the reserves. My older brother Carl teased him about dating a beautiful red-head, seven years younger than Doc and in Carl's class at Mars High School. Her name was Carol Anne Augustine, and her uncle "Augie" was my school bus driver, a very nice man. Doc and Carol were married in 1961. Before long they moved to the Space Coast on Florida's east side, the town of Melbourne to be exact.
Doc's grandfather Robert had excused himself from his family farm in Bairdford, northern Allegheny County, PA, in the late 1800s to live and work in Florida. Robert had fought in the American Civil War and took advantage of U.S. Government land grants there, a way of rewarding the soldiers and settling that part of the country. Read about his "life apart from family" in a letter home, 1913. Robert eventually returned home, but the attraction to and curiosity for Florida was instilled in the next generations. Half of Doc's brothers and sisters eventually settled or spent parts of they lives there or other parts of the South. His parents had introduced him to the Melbourne area near Cape Canaveral as early as 1949, when Grandpap Paul migrated there for the winter. Carpentry work was scarce and gardening was impossible up north. At first, Paul was able to earn money picking oranges, but then word got out than he had carpentry skills and after that he had steady wintertime work as long as he could make the trip.
Uncle Doc likes to tell the story of registering with his siblings to attend school in nearby  Jupiter, FL, during the winter months. Apparently the form asked the question, "Where are you transferring from?" Naturally, they wrote down "Mars." Well, that caused quite the stir, the school officials not knowing whether to take them at their word. Little did they know that some 75 years later earthlings may be literally landing on "the red planet."
Wife Carol is sometimes quick with the pun when she says, "Larry's career at Cape Canaveral was 'launched' when he took a job with Pan American World Airways, which at the time was a contractor with the Air Force." Ironically, my brother Paul was a pilot with Pan Am before their collapse in 1991. Doc began in the maintenance department at the nearby Patrick Air Force Base technical laboratory. He was eventually transferred to The Cape where he worked for 23 years in a variety of posts, including the fire department, the various launch complexes where he handled propellants, and finally as pad mechanic. In 1963 Pan Am was replaced by other contract companies, and Doc continued until his retirement in 2001, ending a 38-year career serving America's space program. But let's go into a little more detail.

Doc's outstanding military record and strong work ethic no doubt prepared him for his supporting role with National Aeronautics and Space Administration (NASA) at what came to be known as Cape Kennedy and the Kennedy Space Center. He explains that, in the early days, the Cape was truly wilderness, undeveloped with swamp and wild animals: plenty of alligators and large boars. The workers had to be careful when they set out on a project. But there were the beautiful sights too: sunrises over the Atlantic, herds of deer, and every bird imaginable. At first, there was Project Mercury (1958-1963), which launched a total of seven astronauts. Doc was part of the team supporting Complex 14, which was labeled "Man-rated." John Glenn, the first man to orbit the earth, rode Friendship 7 from there. Next came the Gemini program (1961-1966), which enabled two astronauts to travel into space at once. The 17 Apollo missions (1967-1973) followed, allowing three persons to blast off. Those adventures, of course, have been made famous through moon landings and movies. Unfortunately, they had several tragedies along the way. Carol says that her husband was actually at work in the propellant department when the tragic fire aboard Apollo 1 cost the lives of astronauts Grissom, Chaffee, and White during a launch rehearsal on January 27, 1967. NASA took a step back after that and re-designed much of the technology, including the elimination of anything flammable in the astronauts' space suits. Doc was eventually promoted to work as a mechanic along side the engineers in the "white room." This is a complex of structures with acronyms such as SMAB (Space Mission Analysis Branch where much of NASA's planning happens), SMARF (Solid Motor Assembly and Readiness Facility where the rocket thrusters are prepared), and the iconic VAB (Vehicle Assembly Building where the missiles are finally assembled for launch).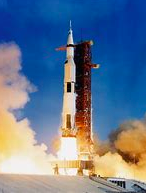 After Apollo came the Sky Lab mission (1973-1975). Simultaneous to that was the phenomenal Space Shuttle launches and landings (1972-2001). History books record the Kennedy Space Center era from 1958-1998 as that of "expendable launch vehicles." With the Shuttle and today's private reusable rockets and capsules supporting the International Space Station, we've entered a new age of extra-terrestrial travel. The Cape lists 24 historic assembly and launch locations, perhaps the most famous being Complex 39. A new film entitled First Man celebrates 50 years since astronaut Neil Armstrong and "Buzz" Aldrin walked on the moon, July 20, 1969, during Apollo 11. Many other men followed, ten to be exact, until the end of those missions with Apollo 17. Now the space program has its sights set on Mars, but President Trump, as Kennedy before, has issued a bold challenge to not only walk on the moon but to establish a permanent base there for missions beyond.
Another story that Uncle Doc loves to tell regarding his time at Cape Kennedy is his memorable experience with famous aerospace engineer, the late Dr. Werner Von Braun. The German-born scientist is perhaps best known for his development of the Saturn V heavy-lift launch vehicle, years in the making, that lifted Apollo 11 to the moon. The morning of lift-off, Dr. von Braun and all the NASA engineers and workers were instructed to take cover, in this case about a mile away from the launch pad in a protective building called the Blockhouse. The launch could be watched on TV sets there. The celebrated scientist, in his loudest German-accented voice, could be heard screaming, "Open ze doors. I vant to see my rocket." We don't know if he got his wish, but as they say, "The rest is history,"
With so much history and background, retirement must have been somewhat difficult for Doc, but retire he did in 2001. Finally, he was "at ease," or so he thought. Perhaps the busiest part of his life was yet to come. Doc had not only served his country in the Marines, but NASA simply could not have carried off their missions to space without devoted people like him. Our family is proud of his duty and dedication. Carol says even after all those years working directly with the rocket launches,  Doc still goes out into the back yard to watch the blast off of many missions into space.
With 58 years of marriage, Aunt Carol and Uncle Doc have had their hands full with four children, seven grandchildren, and two great-grandchildren – so far:
Lorraine "Lori" married Don Reilly and produced Don "DJ", Robert "Rob", and Matthew "Matt";
Karen is still single;
Brenda married Jonathan Lynn and birthed Joshua "Josh," Jeremiah, and Rebekah; and
John has Zach.
Most of this large family lives in and around the Melbourne area, and gatherings with Doc's brother Stan, who lives just south in Sebastian, are not unusual. Several of Doc's older sister Mary's (1931-1990) family also live in the area. Daughter Tammy and husband Alex, who also worked at the Cape, reside on Merritt Island. You can read about Mary in a  forthcoming article. [link]
Despite his family and community obligations some 1200 miles away, Uncle Doc managed to come back north to see his oldest sister, my mother Ruth (1917-2005) on her deathbed. For that, I will be eternally grateful. What sweet irony there was in that priceless photo of him and Mom (her last picture) at the Sewickley Hospital, the oldest daughter and youngest son seeming to close the 18-year gap between the children of Paul and Bertha Gray for eternity. There, for their families and the world to see was Uncle Doc's warm smile and toothy grin.
Aside from their active life in the Church, Carol and Doc are busy helping raise and educate several great-grandchildren. They were very kind to entertain us on several visits. Because of doctor appointments and transporting the kids, they were able to meet Susan and me for coffee and pastries at Dunkin' Donut in historic downtown Melbourne most recently. I'll always remember Doc's big toothy grin and white hair welcoming us for a hour of fond family memories that will last a lifetime.
Documentation:
"Kennedy Space Center" and other online sources. wikipedia.com
Jeffrey Kluger. "First Man tells the story of a hero you thought you knew." Time. 22 Oct. 2018
Last revised 7/19/19